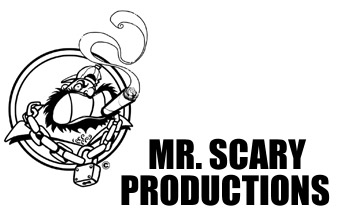 PRESENTS:
The First Annual Benefit Concert for the Lisa McPherson Trust
Saturday, November 11, 2000
Club More, Clearwater FL
This page contains the updates and other information regarding this controversial concert which took place on Saturday, November 11, 2000, to benefit the Lisa McPherson Trust, a Scientology watchdog group based in Clearwater, Florida that works to expose the deceptive and abusive practices of Scientology, and is dedicated to helping people get out.
Keep checking back as video clips and more pictures are added!
November 14, 2000:
It has been quite an exciting few days. The show went really well, no problems or overt interference from Scientologists. We did see a few of them driving past the venue, including Mike Rinder and Marty Rathbun! The day started out with a modest crowd, and the club filled up significantly as the night went on. Several of the cultist's Private Investigators were spotted watching the club and cruising the neighborhoods, and near the end of the event, Jamie Kennedy and an event security person chased a PI from the parking area across from the backstage door of the club. We would speculate that this may have been the first time in history that a benefit concert was so well "watched" from the outside.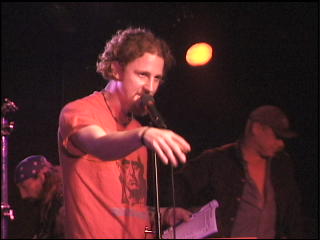 Jamie Kennedy
Jamie Kennedy, L. Ron Hubbard's great grandson, performed several of his spoken word poetry slam pieces. He also was the Master of Ceremonies for this event. The featured performance was Judas' Son, (you can hear an earlier recording of this performance by clicking here). Jamie also performed and filmed Judas' Son on the streets of Clearwater and in front of several buildings yesterday, including the Ft. Harrison, the Sandcastle, the "Bank building" and in Coachman Park... this will be edited together and made available soon, keep checking back! He was also interviewed by Mark Bunker of LMT Media, and this interview will also be made available soon.
Yesterday morning, Jamie appeared again on Tampa's 98 Rock on the Bubba the Love Sponge show, and they took phone calls from the public, asking for a Scientologist to call in. One finally did, but he did a very poor job answering any questions. He claimed to be OT-8, which we later learned has evidently been cancelled... but he is known to be a local public Scientologist named Tom Wright. He danced around every question, and overall made a great representation of how Scientologists behave when asked directly about their "religion." He did acknowledge three things... that the Fair Game policy once existed, though he insisted that it has been cancelled... that L. Ron Hubbard did say that the purpose of a lawsuit is not to win, but to harass and destroy utterly one's opponent... and that they do believe in "always attack, never defend." Jamie was on the air live for about an hour and a half, this appearance can be heard and the latter portion of it can be seen on RealVideo from inside the studio by clicking here.
"Down the Rabbit Hole." Read an account of the events leading up to this concert, as well as additional details about the behind the scenes activities surrounding the organization and promotion of this event.
UPDATE: November 10, 2000:
Jamie Kennedy arrives in Tampa Bay! Jamie made his presence known almost immediately in downtown Clearwater, with a visit to Scientology's Ft. Harrison Hotel last Wednesday afternoon. Kennedy said he just wanted to see his great-gandfather's office, but he was turned away at the front door. He explained to the "security" person that he was L. Ron Hubbard's great-grandson, but he was told that he was not welcome at the Ft. Harrison because he was with "those people." The unwelcome "they" was Jeff Jacobsen of the Lisa McPherson Trust and Mike Krotz, an organizer of this benefit concert.
Jamie then appeared as planned on Tampa radio station 98 Rock WXTB FM, on the Bubba the Love Sponge show Thursday morning. His conversation with Bubba and the others on the show went over the planned time, and Jamie has been asked to return to the station on Monday around 7:15 a.m., to talk even more extensively, and to take phone calls. You can listen to 98 Rock live online (with the right player installed). An appearance on Tampa's #1 community station, WMNF 88.5 FM, on Thursday night's Dark Horizons show was yet another great time, and people calling about the concert announcement lit up the phone banks at the station, and generated comments from across the country on the program's chat page.
There was also a great write-up in Tampa Bay's Weekly Planet about the show. Columnist Stefanie Kalem even spoke with Scientologist and Foundation for Religious Tolerance spokesperson Mary DeMoss, who described this event's promotional efforts and announcements as a "counterintelligence program." Those of us at Mr. Scary Productions would like to thank Ms. DeMoss for the compliment, and her acknowledgment in that statement that she and others have been waging an "intelligence program" against this concert.
On Thursday, Jamie Kennedy also attended a court hearing in St. Petersburg, FL that involved the Lisa McPherson Trust and Scientology's Flag Service Organization. Attempts were made to introduce Jamie to various Scientologists prior to this hearing, but nobody seemed to want to even acknowledge him. Jamie attended as a spectator, in order to observe the court tactics of Scientology, and he left with quite an education. The hearing, which is regarding Scientology's attempt to prevent anyone from the Lisa McPherson Trust from exercising their 1st Amendment rights in the form of peaceful picketing, was continued.
We would like to repeat that it is our intention to make this a SAFE and exciting event for all, and that NO disturbances will be tolerated. Police officers will be on hand, and anyone who is familiar with downtown Clearwater should know that Club More is a secure and well respected venue, and is located across the street from the police station.
UPDATE: November 7, 2000:
This is from the latest anonymous Scientologist attack on Lisa McPherson Trust personnel and this event's main volunteer Mike Krotz, which was posted today to the newsgroup alt.religion.scientology:
Subject: LMT BAD PR
"The amount of fraud and deception coming from the LMT these days is mind-boggling. (Bob) Peterson is just the tip of the iceberg. A postal authority investigation resulted in censure. He is caught using LMT computers for his fake "starboard list" postings, and now he is found to have a slew of other email identities insinuating in some that he is a Scientologist. Peterson is doing the work of the LMT hate group all right.
Peterson is an agent provocateur and he has been reported to the Department of Licensing where he applied for a license as a private investigator intern. (no experience required.) He is sponsored by and works closely with Michael Krotz; Alexander and Greenway's security guard - who is busy spreading outright lies about death threats to create violence. He is probably being coached by Jacobsen.
More to come. Much more."
As we have said all along, the purpose of this benefit concert is to expose the deceptive and abusive practices of the so-called church named Scientology. They are not a "turn the other cheek kind of religion." Just because we are throwing a benefit for their present "#1 enemy," the musicians and volunteers for this event are personally attacked! And as was threatened in the above post, there is MORE TO COME! This entire post will be shared with the local media. It is interesting to note how these accusations are carefully phrased for maximum impact. An "agent provacateur" is said to have been "reported." Vague and suggestive allegations that are designed for maximum impact. We are left wondering what is meant by "Much more" to come.
Violence and trouble will not be tolerated at this concert. Period. By anyone.
UPDATE: November 6, 2000:
The following is from a 11/5/00 update email to his friends and fans by Jamie Kennedy, the Master of Ceremonies for the 1st Annual Benefit concert for the Lisa McPherson Trust.
<<<THE CULT WAR IN FLORIDA>>>
"Thanx to all the people all over the nation who've been emailing me their horror stories with the cult, concerns, and fiery encouragement these last couple weeks. This show may be one of the most dangerous I've undertaken, and that's saying something from a guy whose been knocked out by his own audience. Also to clarify, the Lisa McPherson Trust is NOT paying my expenses out to Florida, Mr.. Scary Productions is taking care of that. This is an issue the Church has attacked (along with EVERYTHING AND EVERYONE). I leave next week and will enter into the strangest battlefield I've ever heard of. The event will be huge and I'll be doing interviews with radio, television and newspapers, will be staying at various safe houses and will be Alice gone down the rabbit hole. In the last Tourettes update I detailed
the Church's threatening house visit which was thankfully in Charles Ellik's SF Slam update which covers the Bay Area scene and is sent out on a national level.
Boy it just gets better and better doesn't it? Jihad sci-fi style...I'll be sending out email updates from Florida to let you all know what's going on..." - Jamie Kennedy
More details about the event, its performers and speakers: In addition to Jamie Kennedy, this event will feature Tampa poet the San Man, and his acoustic guitarist friend, Glen The Other McCartney. Special guest speakers will include cult expert Jeff Jacobsen, and also Lisa McPherson Trust board members Stacy Brooks, Jesse Prince and Peter Alexander. Other special guest speakers will be present as well. Internationally known artist Boo Ehrsam is providing a unique and unusual painting which will be displayed at the event. It is her painting titled "In The Temple of the False Profits," which she says was created after an inspirational visit to an "open house" at a new Scientology building not too long ago. Plans are being made to produce prints of this painting for eventual sale. Boo Ehrsam is providing the licensing for the prints free of charge, and all proceeds from sale of the prints will go to the Lisa McPherson Trust! This is Boo's description of the painting and its symbology:
"In The Temple of the False Profits"
"The pyramid in the painting reflects my opinion that Scientology is a pyramid scheme, it is also the volcano used on the book of Dianetics. L. Ron is depicted as a corpse. In his hands are the book Dianetics and the Mask of Religion which has the "Scientology Cross" imprinted on it. The bosses are up there with him. The spokesperson with a serpent for a tongue and Miscavage in the Ivory Tower (the name of the room for the auditors of the auditors). OT is on the pyramid, the bottom of which is reminiscent of the ceilings in some of their buildings. Note the video camera recording everything as is done during auditing. A giant E-Meter! All of the unfortunates sucked into Scientology are hooked up to the e-meter. Starting normal they shed their colorful clothes for black and turn into mindless ants working for the masters of the pyramid. The worst are those ants with blinders on, signing away their next billion lifetimes to the "C Orgs" (Sea Orgs). "Make Money, Make More Money, Make Others Produce to Make More Money" is a quote from L. Ron himself. " Boo Ehrsam
UPDATE: November 4, 2000:
It seems that daily the Scientologists are resorting to more extreme acts of intimidation and harassment in an attempt to destroy this benefit concert. We learned last night that a Scientologist has directly contacted Tranceboy, one of the musicians appearing at this event- pressuring him to back out, telling him that he is misinformed, telling him that he is being lied to. This particular musician is very well aware as to the true nature of cults in general, and has a background that includes a significant religious education. Tranceboy said that he will still appear at the event, and much like the other artists that have been approached by Scientologists, he is more convinced than ever that this is the right thing to do. He even told this Scientologist that the Lisa McPherson Trust would be there for him when he decided to get out!
Tranceboy also indicated that a friend of his heard mention of this event on a Sarasota, FL television news program. He wasn't sure which station, and he said his friend expressed concern about his safety if he attended this event based on what he heard on that broadcast. Regarding the safety issue we can say nothing for certain, as this event is treading into uncharted territory regarding interaction with the cult. Club More has their own security personnel, and we will have our own event security as well. The Clearwater Police station is across the street from the club, and they share parking lots. However, the club is also in the shadow of the new Scientology "superpower" building, and within sight of the Ft. Harrison. That being said, we will do all in our power to ensure that this is a safe and exciting event for everyone.
Last night we also heard the story of a Chiropractor whose business was driven out of downtown Clearwater because he wouldn't join Scientology. Evidently, pressure was put on him to join the "religion," but he refused to convert, coming from a strong Christian background. Rather than buckle under to their intimidation, he relocated his practice. We were told that he and his wife wanted us to know that they are praying for the success of this event, and for the "anti Christian" bands who are appearing.
UPDATE: November 3, 2000:
The Scientology front group, the Foundation for Religious Tolerance (FaRT) is most likely behind the latest flier to be circulated around Clearwater and the Tampa area. It includes lyrics from participating bands Boney Fiend and The Outpatients, as well as lyrics from a band not even appearing at the event, Hard 2 the Left. This is the second "anonymous" attack flier regarding this event (click here to see the first flier), and also the second case of blatant copyright infringement by this organization. It appears that they will not rest until this event is destroyed! They again personally attack event volunteer Mike Krotz, of the St. Petersburg, FL band Fornikulture, and also quote one of MC Jamie Kennedy's spoken word performances.
Lisa McPherson Trust director Bob Minton posted a message today regarding Scientology and creativity, entitled, "Why Scientology Hates Critics and Music."
Numerous appearances announcing and discussing this event on area radio stations are planned in the coming week. Perhaps the most notable is a scheduled appearance on Tampa radio station 98 Rock WXTB (97.9 FM), for Thursday November 9, between 8 and 10 a.m., on the Bubba the Love Sponge morning show. You can listen to the radio station live if you have Windows Media Player installed. Jamie Kennedy will be featured in this appearance, as will event volunteer Mike Krotz. 98 Rock is the highest rated radio station in the Tampa area according to Arbitron, and Bubba's show is no doubt the most listened to and discussed morning show in the region.
Mike also appeared today (November 3, 2000) on AM radio 1520, speaking to host "San Man" about this event. Poet and radio host San Man will also appear and perform his poetry at the benefit concert. Appearances on Tampa community radio station WMNF 88.5 FM are also planned.
This concert seems to be getting people pretty stirred up in Clearwater and the Tampa Bay area. It is unfortunate that some anonymous people are trying to cause trouble between musicians by posting as "Mr. Scary" to the Coffestain discussion page making unfounded allegations about the threat on Taz, and making other negative posts. The only true Mr. Scary posts made were about the benefit and included the Mr. Scary email address for contact. Mike Krotz is the main volunteer with Mr. Scary Productions, and many are trying to label him as "Mr. Scary." However, since this event consists of many volunteers and organizers, that would be unfair...calling any one person "Mr. Scary" is like calling any one person at a business by the name of that business.
UPDATE: October 30, 2000:
From the latest press release regarding the benefit concert: Taz, the vocalist for Tampa Bay band Trocar received an anonymous telephone call at his work this past Thursday, saying that if he performed at this event, he would be dead. This comes on the heels of an anonymous flier being distributed around Tampa Bay that names several bands involved in this event, including Wickergod and Fornikulture, and alleges that they are "anti Christian" based merely on their names or some artwork from their web sites. The Foundation for Religious Tolerance (a Scientology front group) recently issued a press release letter that named three bands and suggested they were not adequate to generate interest in a benefit concert, and suggested that this event was in support of a "hate group." Event volunteer Mike Krotz has been repeatedly attacked on the internet, with personal information... including where he lives and works being posted for all to see.
Copies of portions of these volatile newsgroup postings have been posted on our ARS page. Or search the newsgroup alt.religion.scientology for mention of the LMT benefit, there are tons of discussions underway.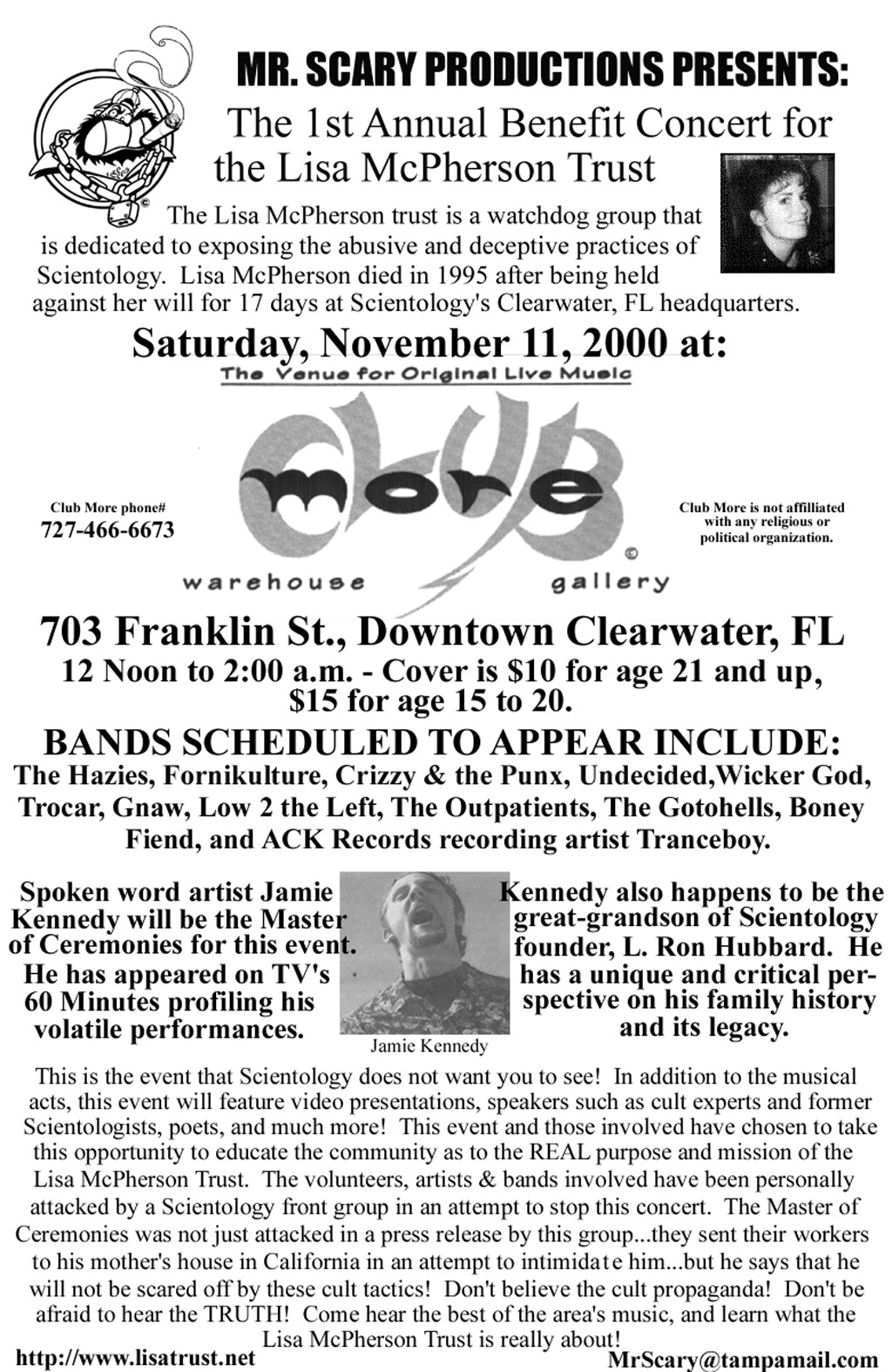 The above was one of the fliers for the First Annual Benefit Concert
for the Lisa McPherson Trust
The purpose of this event was to shed light on the truth about the Lisa McPherson Trust, a watchdog group that is dedicated to helping those who have been abused by Scientology. The attacks and harassment that this event and its organizers suffered is a prime example of the tactics of Scientology when it comes to anyone who dares to speak out against it. Scientologists relentlessly attacks the Lisa McPherson Trust and its members with everything from anonymous slander to actual physical assault, and Scientologists vidoetape their every move around Clearwater. In this example the bands involved were only playing a benefit concert for Scientology's perceived "enemy," and the bands and event volunteers were threatened and attacked!
THIS WAS THE BAND LINEUP:
12 Noon D.J. Kalani
1:30 p.m. Gnaw
2:35 p.m. Boney Fiend
3:40 p.m. Low 2 the Left
4:45 p.m. The Scientolojerks
6:00 p.m. Crizzy & the Punx
7:05 p.m. Undecided
8:10 p.m. Wicker God
9:15 p.m. Fornikulture
10:20 p.m. Trocar
11:25 p.m. The Outpatients
12:15 a.m. Tranceboy
For more details and information, follow these links:
Lisa McPherson Trust home page
Benefit concert information page at the Lisa McPherson Trust
T-shirts promoting the concert available online here
A second T-shirt design featuring the concert poster available here
Master of Ceremonies Jamie Kennedy's page about his harassment by the cult of Scientology
Jamie Kennedy's MP3.com RealAudio performance, Judas' Son, in which he explains his relation to Scientology founder, L. Ron Hubbard... and his feelings about his family legacy (in RealAudio format)
Scientology front group FRT sent out a letter bashing the concert and the Lisa McPherson Trust, as well as some of the bands.
An anonymous flier bashing two of the bands involved in the benefit, in an attempt to label them as "anti Christian."
Yet another flier being distributed in mail slots to businesses around Clearwater that attacks the bands and their lyrics
The initial press release about this event
Maggie Council, eclectic songwriter, donates part of her CD sales proceeds to the Lisa McPherson Trust
Operation Clambake, a great resource for critical information about Scientology
Occupied Clearwater, another great source of Scientology information
Do you want to buy a bridge? Mark Ebner's inside scoop on Scientology for Spy Magazine
More to come!